alpha-Lipoic Acid
alpha-Lipoic acid (ALA) is an organosulfur compound and antioxidant that can be obtained from food as well as made endogenously within the body.[1] ALA is associated with specific neuroprotective and metatolic effects.[1][2] It has been used to treat neuropathy, diabetes, and insulin-resistance syndromes, as well as other conditions affecting the brain and the nervous system. A 2019 systematic review reports that ALA has also been studied for a variety of neurological conditions, with promising results, including stroke recovery and Alzheimer's disease.[3]
Action
As an antioxidant, ALA has been shown in vivo to improve cellular antioxidant capacity and phases 2 detoxification enzymes such as catalase, reduced glutathione, glutathione reductase, and glutathione S-transferase.[4] ALA is also a cofactor involved in mitochondrial function, the energy-manufacturing plant of the cell.[1] It improves insulin signaling at the cellular level and increases glucose uptake.[1] As such, ALA has been shown to improve glucose control, cholesterol, and inflammatory markers. These activities are also most likely related to the effects of ALA in the nervous system as well as in metabolism. Another role of ALA appears to be its ability to prevent excess copper and iron accumulation, tissue damage, and its possible mercury-chelating ability.[1]
Diabetes
A 2018 meta-analysis of 24 randomized, controlled trials of patients with metabolic diseases, such as diabetes and metabolic syndrome, found that supplementation with ALA was associated with significant decreases in several parameters.[2] These included fasting glucose, insulin, homeostasis model assessment of insulin resistance (HOMA-IR), and approximately 1.2-point decrease in hemoglobin A1c (a considerable change, since HbA1c is optimal under 6%), triglycerides, and low-density lipoprotein cholesterol (LDL).[2] Another meta-analysis by the same researchers found that ALA supplementation also decreased inflammatory markers in patients with metabolic diseases, including C-reactive protein (CRP), interleukin-6 (IL-6), and tumour necrosis factor-⁠alpha (TNF-α).[4]
In addition to effects in diabetes, ALA has shown activity in patients with insulin-resistance syndromes such as polycystic ovarian syndrome (PCOS).[5][6] In PCOS, elevated insulin levels contribute to hormone imbalances, causing poor ovulation and infertility. Supplementation with ALA in women with PCOS has been shown to improve insulin sensitivity, glucose, and body mass index (BMI);[5] when used in combination with another insulin sensitizer, inositol, it has been shown to help regulate menses and female hormones.[6]
Neuropathy
In addition to improving glucose control and insulin resistance, administration of ALA has been shown to reduce diabetic neuropathy. This type of neuropathy involves altered sensation, pain, and tingling in the hands and feet, most often associated with long-standing or uncontrolled diabetes. A randomized trial of 24 patients with type 2 diabetes and neuropathy found that supplementation with 600 mg ALA three times daily for three weeks resulted in significantly improved pain and disability scores compared to placebo.[7]
A more recent trial, involving 460 patients with diabetes taking 600 mg ALA or placebo daily, found that although there was no difference in the composite endpoint, there was a significant improvement in measures of lower-limb symptoms and muscle weakness compared to placebo.[8] In addition, more patients receiving ALA showed a clinically meaningful improvement, and fewer showed progression of neuropathy as assessed by the Neuropathy Impairment Score (NIS).[8]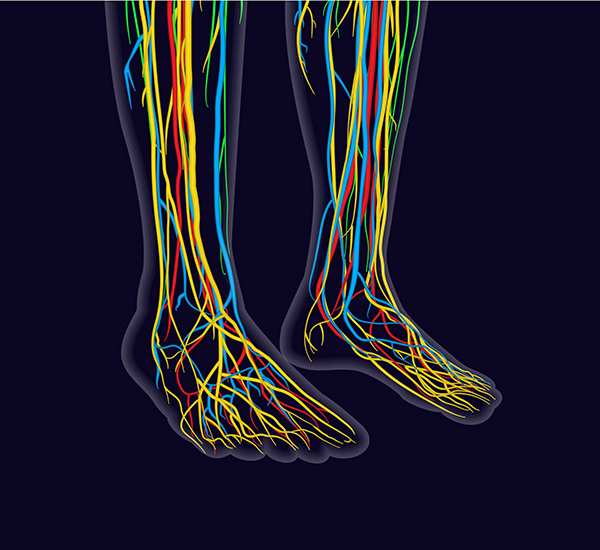 One study has also shown promise in patients affected by cardiac autonomic neuropathy, a type of nerve damage that results in heart-rate irregularities.[1] Another study found that supplementation with ALA may also protect against deterioration of diabetic retinopathy, a disease process that affects the eye and can eventually lead to blindness.[1] Based on the effect of ALA on this type of diabetic end-organ damage, it may be rational to use ALA to treat other diabetic complications including kidney damage.
Neurodegenerative
ALA has been evaluated in patients with multiple sclerosis (MS).[9] In one study, 24 patients with relapsing-remitting MS were treated with 1200 mg ALA or placebo daily for 12 weeks.[9] Researchers found that, although 2 of 12 patients in the placebo group had declines in functioning, none of the patients receiving ALA did.[9] Another study by the same group found that supplementation with ALA among patients with MS reduced levels of inflammatory cytokines, including INF-γ, ICAM-1, TGF-β, and IL-4.[10] More research is needed in this area.
Conclusion
In conclusion, alpha-lipoic acid has a number of metabolic and antioxidant effects, including involvement in mitochondrial energy production, increasing glutathione activity, improving insulin sensitivity, as well as antiinflammatory and neuroprotective effects. ALA may be beneficial in diabetes, neuropathy and other diabetic complications, PCOS, and neurodegenerative conditions. Patients with diabetes are advised to consult with a licensed health-care provider prior to use.
References
Higden, J. Lipoic acid. Linus Pauling Institute. Micronutrient Information Center. · https://lpi.oregonstate.edu/mic/dietary-factors/lipoic-acid · Updated 2019-⁠01. · Accessed 2019-01-31.
Akbari, M., et al. "The effects of alpha-lipoic acid supplementation on glucose control and lipid profiles among patients with metabolic diseases: A systematic review and meta-analysis of randomized controlled trials." Metabolism, Vol. 87 (2018): 56–69.
de Sousa, C.N.S., et al. "alpha-Lipoic acid in the treatment of psychiatric and neurological disorders: A systematic review." Metabolic brain disease, Vol. 34, No. 1 (2019): 39–52.
Akbari, M., et al. "The effects of alpha-lipoic acid supplementation on inflammatory markers among patients with metabolic syndrome and related disorders: a systematic review and meta-analysis of randomized controlled trials." Nutrition & metabolism, Vol. 15 (2018): 39.
Genazzani, A.D., et al. "Modulatory effects of alpha-lipoic acid (ALA) administration on insulin sensitivity in obese PCOS patients." Journal of endocrinological investigation, Vol. 41, No. 5 (2018): 583–590.
De Cicco, S., et al. "Myoinositol combined with alpha-lipoic acid may improve the clinical and endocrine features of polycystic ovary syndrome through an insulin-independent action." Gynecological endocrinology, Vol. 33, No. 9 (2017): 698–701.
Ruhnau, K.J., et al. "Effects of 3-⁠week oral treatment with the antioxidant thioctic acid (alpha-lipoic acid) in symptomatic diabetic polyneuropathy." Diabetic medicine, Vol. 16, No. 12 (1999): 1040–1043.
Ziegler, D., et al. "Efficacy and safety of antioxidant treatment with α-⁠lipoic acid over 4 years in diabetic polyneuropathy: The NATHAN 1 trial." Diabetes care, Vol. 34, No. 9 (2011): 2054–2060.
Khalili, M., et al. "Effect of alpha-lipoic acid on asymmetric dimethylarginine and disability in multiple sclerosis patients: A randomized clinical trial." Electronic physician, Vol. 9, No. 7 (2017): 4899–4905.
Khalili, M., et al. "Does lipoic acid consumption affect the cytokine profile in multiple sclerosis patients: a double-blind, placebo-controlled, randomized clinical trial." Neuroimmunomodulation, Vol. 21, No. 6 (2014): 291–296.