Vegan Peanut Butter Easter Eggs

With Easter quickly approaching, it's time to think about making some yummy treats
to share with loved ones. I loved the good old-fashioned chocolate Easter egg hunt
and dying Easter eggs. One of my favourite items that appeared in my Easter basket
was a big chocolate covered peanut butter egg. It sure wasn't the healthy kind, but
now I've created a healthy version to share with you!
These eggs are super easy to whip up! The yield will depend on the size you choose
to make them. I got about 17 out of the batch.
I have 2 different versions below, so take your pick. They're both great; the first one
is sweetened only with liquid sweetener while the second version uses coconut
sugar.

Peanut Butter Filling #1
1/2 cup natural peanut butter*
1/3 cup blanched almond flour
1 tablespoon coconut flour
2 tablespoons coconut nectar or maple syrup, or to taste
1/2 teaspoon pure vanilla extract
1/4 teaspoon sea salt
1 1/2 tablespoons melted coconut oil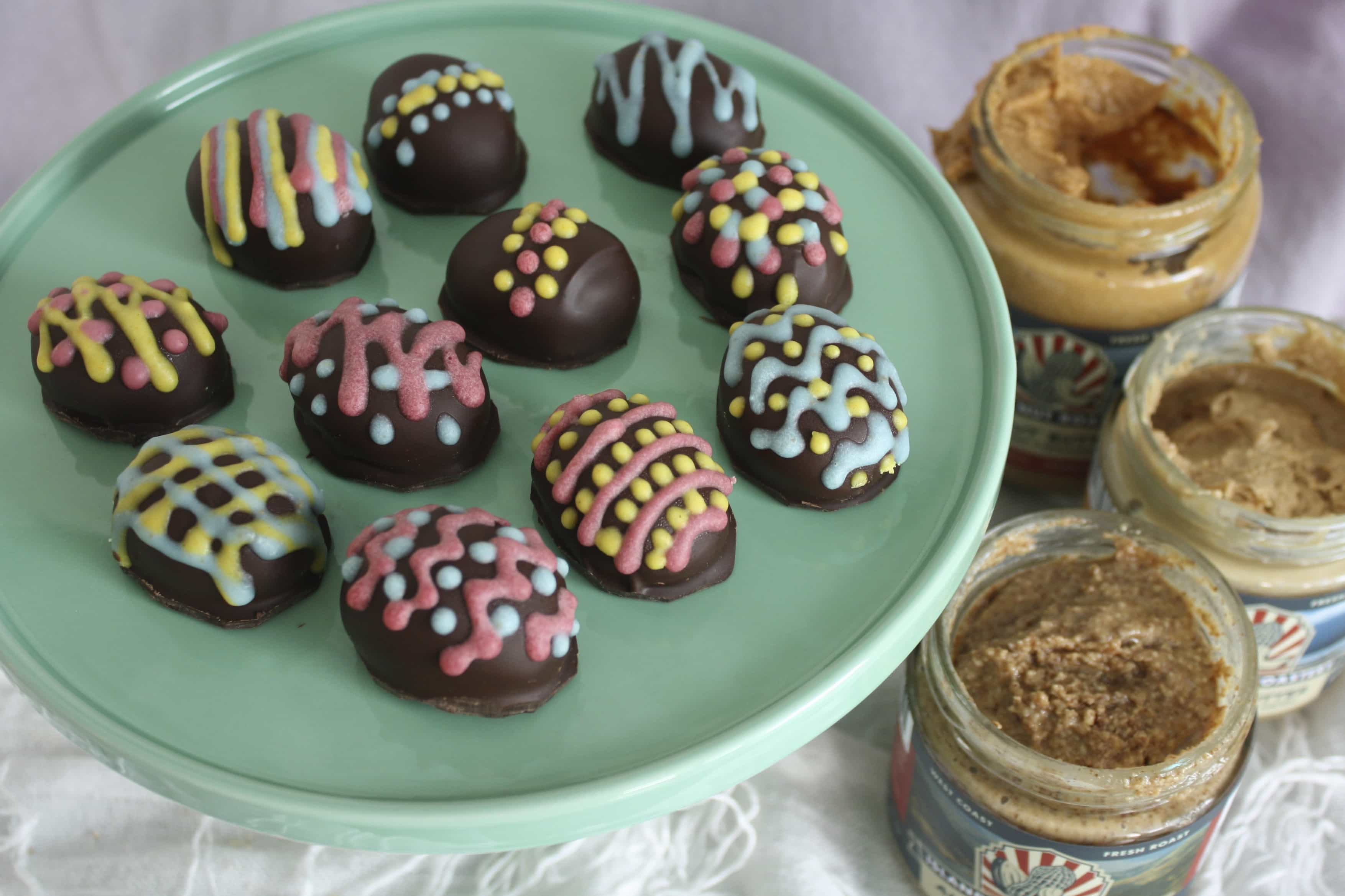 Whisk all ingredients together in a
bowl until smooth. Transfer to the
fridge for at least 30 minutes to
stiffen up a bit. Roll into 10-12 balls
and then form into egg shapes.
Place into the freezer while melting
the chocolate. Melt 1 1/2 -2 cups of
dark chocolate of your choice and 2 teaspoons of melted coconut oil in a
bowl over a pot of hot water. Dip
each peanut butter egg into the
melted chocolate and then place on
a parchment paper lined tray. Set in the fridge before decorating with the topping.

Peanut Butter Filling #2
1 cup natural peanut butter*
3/4 cup blanched almond flour
3/4 cup coconut sugar
1/2 tablespoon pure vanilla extract
1 tablespoon maple syrup

1 1/2 -2 cups chopped dark chocolate of your choice
Grind the coconut sugar to powder in a coffee grinder (do this in 2 batches).
Add all ingredients except chocolate to a food processor and grind briefly to
bring all ingredients together. Roll the dough into balls and then shape into
Easter egg shapes. Set on a plate and chill in the fridge to firm up for at
least 30 minutes.
Melt the chocolate in a bowl over a pot of hot water that is on very low heat
on the stove. When melted, dip each egg into the chocolate using a fork and
set on a parchment paper lined tray. Chill in the fridge for at least 15 minutes
to set.
*Make sure the peanut butter contains NO salt, otherwise omit the salt from
the recipe.

Coloured Frosting
2 tablespoons melted coconut butter
2 tablespoons cashew butter
2 tablespoons powdered xylitol

Sift the xylitol into a bowl to ensure there are no lumps (which happens with
powdered xylitol). Add the other 2 ingredients and whisk everything together.
Keeping the frosting warm will ensure that it stays fluid. Use a piping bag or
a Ziploc bag with the tip cut off to drizzle over the chocolate. Set in the fridge
to harden.
Heather Pace
A classically trained chef turned raw-dessert chef, she is
a travel bug, a chocoholic, and a certified yoga instructor.