Super Stacked Chocolate Nut and Seed Bars
Ingredients
1½ cups sugar-free chocolate chips (dark or milk)
1 cup of your favourite keto nut or seed butter
1/2 cup of sugar-free syrup
1/4 cup of pumpkin seed protein powder
1/4 cup of coconut oil, solid
2 3/4 cups of any combination of your favourite keto nuts and seeds that work for you. I used the following combination:
1/2 cup sliced almonds
1/2 cup of chopped hazelnuts
1/2 cup unsweetened coconut
1/2 cup pumpkin seeds
1/4 walnuts
1/4 cup sunflower seeds
1/4 cup of hemp seeds
Super Powders for Additional Health Benefits
2 tbsp. lupine seed powder (optional)
2 tbsp. Coconut MCT Powder (optional—Your body can use medium-chain triglycerides as an instant source of energy, making it unnecessary to store fat for this purpose)
Instructions
Line an 8 × 8 inch baking dish with parchment paper.
In the microwave or on the stove top, combine chocolate chips, nut butter, sugar-free syrup, and coconut oil. Heat until melted and combine ingredients.
Add pumpkin seed powder, nuts, seeds, and mix until combined. Pour into the baking dish and spread evenly. Refrigerate until firm.
Sprinkle with hemp seeds or roasted flaxseeds.
Store in fridge for 7–10 days, or you can also freeze them.
Makes 16 bars.
- - -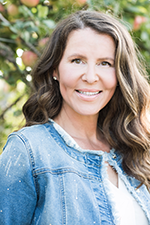 Tammy-Lynn McNabb, RHNC, is a Registered Holistic Nutrition Counselor and television host/producer of Health Wellness & Lifestyle TV. She believes that eating healthy shouldn't be difficult and should never compromise taste.