Queso Yams
This delectable dish achieves the ideal combination of sweet, spicy, and savory flavours, all while including healthy fats, antioxidants, and fibre.
Ingredients
2–4 yams or sweet potatoes
2–4 slices sustainably raised bacon
1–2 carrots
1–2 jalapeño pepper
1 red pepper
1 yellow pepper
1 onion
1 lemon
2–4 cloves garlic
1 cup cashews
1 can black or pinto beans
¾ cup coconut milk, unsweetened
¾ cup nutritional yeast
¼ tsp. smoked paprika
¼ tsp. pepper and sea salt
Directions
Soak cashews in a bowl of water for 4–6 hours or overnight. Whether you are using yams or sweet potatoes, give them a quick rinse, then cut them halfway through and place them on parchment paper in a preheated oven at 400 °F (205 °C) for 35–45 minutes.
Start the bacon on low using one piece of bacon for each potato, and at the same time, start boiling ¾ cup of carrots in a small pot.
Begin dicing up the peppers into small pieces along with the onions, and place in a bowl and wait until the bacon is crispy enough to be removed, then toss in the veggies and beans.
In a blender, add the soaked cashews, carrots, nutritional yeast, garlic, salt, pepper, coconut milk, lemon, red-pepper flakes, and smoked paprika, and blend until creamy consistency is reached. Start the blending process on a slower setting to reach the optimal level of thickness for your queso cheese while slowly adding the coconut milk.
Once the veggies and beans have cooked in the fat, dice up the bacon pieces and add them back in along with the queso cheese sauce, and put the stove top on low.
Remove the yams or sweet potatoes once fully cooked, slit then open, and stuff them with the queso cheese and veggie mix. Garnish with green onions and enjoy!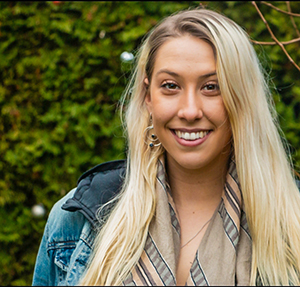 Megan Luder, CNP
A certified nutritional practitioner who is passionate about creating and educating on the health benefits of nutrient-dense whole food.
libertynourished.com