White Chocolate Cranberry Loaf
Loaf Ingredients
2 cups organic baking flour
1 cup organic cranberries (fresh or thawed)
1 cup wholesome organic brown sugar
2 free-range, organic eggs
6 oz unsweetened applesauce
½ cup Enjoy Life white chocolate chips
1 tsp. baking powder
½ cup coconut or avocado oil
2 tsp. vanilla extract
1 tsp. sea salt
Toppings Ingredients
½ cup organic pecans, cut into pieces
½ cup shaved blanched almonds
½ cup wholesome organic brown sugar
¼ cup grass fed unsalted butter, melted
2 tbsp. organic baking flour
½ tsp. sea salt
Drizzle Ingredient
½ cup enjoy life white chocolate chips
Instructions
Preheat oven 350 °F (175 °C) and prepare a loaf pan.
In a medium bowl, mix together dry ingredients (flour, baking powder, and salt).
In a standing mixer, mix together the brown sugar, white chocolate, coconut or avocado oil, applesauce, vanilla extract, and eggs. Incorporate the dry ingredients into the wet, mixing until just combined.
Slowly add the cranberries and white chocolate chips into the batter. Pour into the prepared loaf pan and set aside.
Mix together the topping ingredients until fully combined. Sprinkle the topping evenly over the loaf, covering it entirely.
Bake the loaf for 45 minutes or until a knife comes out clean when inserted into the center of the loaf.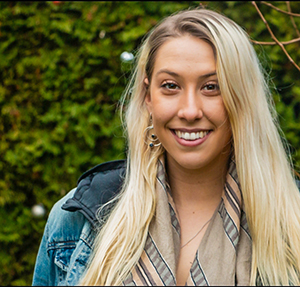 Megan Luder, CNP
A certified nutritional practitioner who is passionate about creating and educating on the health benefits of nutrient-dense whole food.
libertynourished.com