Silky Smooth Chawanmushi: Japanese Steamed Savoury Custard
Ingredients for Egg Mixture
2 large eggs (about 100 ml)
270 ml dashi
3 rounded tbsp. of New Roots Herbal Beef Bone Broth Protein
1 tsp. Japanese soy sauce
1 tsp. sake
1 tsp. mirin
1/2 tsp. salt
Ingredients for Chawanmushi
4 shrimps, deveined
50 g chicken thighs, cut into bite-size pieces
2 shiitake mushrooms, sliced
2 tsp. Japanese soy sauce
2 tsp. sake
Green onions, 1-inch slices
Fresh coriander leaves (optional)
Paper-thin lemon rind (optional)
Instructions
Prepare shrimp and chicken by marinating in a bowl with soy sauce and sake; set aside. In a large bowl, whisk together egg-mixture ingredients. Strain the egg mixture through a metal sieve to ensure a smooth custard.
Divide the chicken and shrimp evenly between 4 heatproof cups or ramekins. Pour the egg mixture over each cup. Do not pour more than ¾ full. Top with mushrooms, green onion, and garnish ingredients of your choice. If you have lids for your ramekins, use them or cover tightly with aluminum foil.
Steamer Method: Place cups into a steamer with water at full boil, then reduce to medium-low. Steam over low heat for 15–20 minutes. If your heat is too high, the custard will puff up and collapse. Do not remove the lid during steaming. Steam until barely congealed, meaning the custard jiggles and the surface bounces back when lightly pressed with a spoon.
Oven Steam Method: Preheat your oven to 325 °F (163 °C). Set ramekins inside a 9 × 13-inch baking dish and place it in the oven. Pour enough boiling water into the baking dish to come halfway up the sides of the ramekins and bake the custards until set, but still slightly loose in the center (about 30 minutes). Carefully remove the baking dish from the oven, slowly lift the ramekins from the water bath, and transfer to a rack. Let the custards slightly cool before serving.
Serves 4.
- - -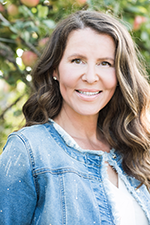 Tammy-Lynn McNabb, RHNC, is a Registered Holistic Nutrition Counselor and television host/producer of Health Wellness & Lifestyle TV. She believes that eating healthy shouldn't be difficult and should never compromise taste.