Raspberry Chipotle BBQ Sauce
(To serve with grilled chicken breast)
Ingredients
1½ large chipotle peppers, minced (from can of chipotle peppers in adobe sauce)
4 cups of raspberries
½ cup of red onion, chopped
3 garlic cloves, minced
15 oz. tomato sauce
¼ cup of apple cider vinegar
2 tbsp. of flaxseed oil
2 tbsp. of molasses
1 tsp. of liquid smoke
1/8–¼ cup of birch syrup or brown sugar
2 tbsp. of salt
1 tsp. pepper
Instructions
Heat a large sauté pan to medium-high heat and add oil and red onion.
Sauté for 3 minutes until onions are translucent; add garlic cloves and chipotle peppers. Stir and sauté for 30 seconds.
Add tomato sauce, birch syrup or brown sugar, apple cider vinegar, and liquid smoke; then, add in raspberries. Stir and bring to a boil.
Reduce heat and simmer for 10–15 minutes, stirring occasionally.
Remove from heat and let cool.
Top on your favourite protein. You may store the remaining sauce in airtight container for about 2 weeks.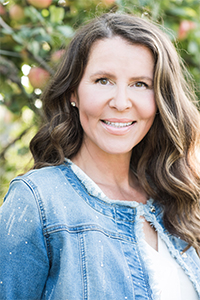 Tammy-Lynn McNabb, RHNC
A registered holistic nutrition counselor and television host/producer of Health Wellness & Lifestyle TV, she believes that eating healthy shouldn't be difficult and should never compromise taste.