Eggplant Parmesan
This dish is simple to make and impressive even for your fussiest diner guests. It could become a family favourite in no time.
Ingredients
1 very large eggplant, sliced into ½-⁠inch thick rounds
3 cups of your favourite marinara sauce
½ cup packed fresh parsley, finely chopped
½ cup Daiya mozzarella cheese or other favourite vegan cheese, shredded
¼–½ cup avocado oil or favourite cooking oil
2 tbsp. maple syrup or favourite sticky syrup
1–2 Brazil nuts, finely grated or microplaned (optional)
1–1½ cups gluten-free bread crumbs (optional)
Instructions
In one flat-bottom bowl, stir together the oil and maple syrup. Put the bread crumbs in a second flat-bottom bowl. Brush or dip each eggplant round in the oil mixture, then in the bread crumbs, covering all surfaces.
Place the coated rounds on a baking sheet and place in a preheated 450 °F (235 °C) oven for 30 minutes, carefully flipping each over halfway through cooking. After 30 minutes, remove the baking sheet from the oven.
In the bottom of a large glass baking dish, spread about ½ cup of the marinara sauce and then place the eggplant rounds on top of the sauce. Cover the round with 1½ cups of the marinara sauce. Sprinkle with the chopped fresh basil, followed by the remaining sauce. Top evenly with the shredded vegan cheese, followed by a sprinkle of the grated Brazil nuts (if using).
Bake for 15 minutes at 450 °F and serve hot.
Serves 2–3.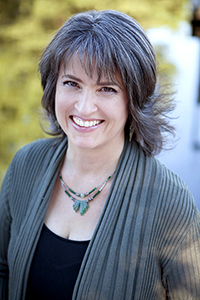 Theresa Nicassio, PhD, Psychologist
Theresa is a wellness educator, radio host, and the award-winning author of YUM: Plant-⁠Based Recipes for a Gluten-⁠Free Diet.
TheresaNicassio.com