Back to School... Seven Tips to Help Your Kids Eat-to-Learn

"Don't be afraid to stand for what you believe in, even if that means standing alone."
— Andy Biersack


If you've ever been a caregiver of young children, you know what an exciting time it is when a new school year begins…
Everyone is buzzing about the summer fun, with some sadness that fall has arrived. While most kids are nervous about the unknowns—like who their teachers will be, who their classmates will be, what their course work will be like, etc.—the anticipation of seeing old friends again and enjoying favourite school and after-school activities makes this time of year have a surprisingly celebratory quality about it.

A Great Time for a Fresh Start
With this energizing "fresh start" feeling in the air and the desire for joyous outcomes, this is one of the best times to strategize about ways you can optimally support your kids and their learning. The great news is that you can make some very simple lifestyle adjustments that can help your kids shine, both socially and academically, if you make the courageous decision to swim upstream by teaching them how to march to a different drum.

The Fuel You Choose Makes a Difference
I'm not trying to scare you, but we all know that the majority of food that is marketed for kids here in North America does anything but enhance their ability to focus and learn. It doesn't take a rocket scientist to know that the quality of fuel that we put in our engines affects the quality of our energy, performance, and learning. With the rapid rate of growth that school-age kids are going through, along with the complex hormonal and neurological changes that go with the territory, their need for proper nutrition and physical activity are even more crucial.
The mere fact that you are reading this article tells me that you likely already know that foods filled with sugars, starchy carbs, sodium, caffeine, food dyes, and colours (not to mention other mysterious chemicals that are often difficult to pronounce) don't do the body good. Even though you know this, your desperate longing for convenience and "normalcy" for you and your kids during the busy-ness of life during the school year, especially if you have a child with special dietary needs, may lead you down the familiar path of nutritional compromise.

You Are Not Alone
We've all been there, but that doesn't mean we have to stay there. It also doesn't mean that it has to be difficult for us to feed our children whole foods, with lots of beautiful fruits and veggies, when they're at school. If you are willing to go the extra mile, your efforts will be more than rewarded as you witness your kids focus and perform better at school, interact more appropriately in the classroom and on the playground with fewer behavioural or social challenges, manage their stress and other difficult emotions better, and demonstrate overall better brain functioning that is easily identifiable by their improved ability to learn.
The few minor changes you can make in order to see these benefits become mere drops in the bucket. Seeing your child thrive can give you one of the biggest dopamine highs this life has to offer. You'll never want to turn back.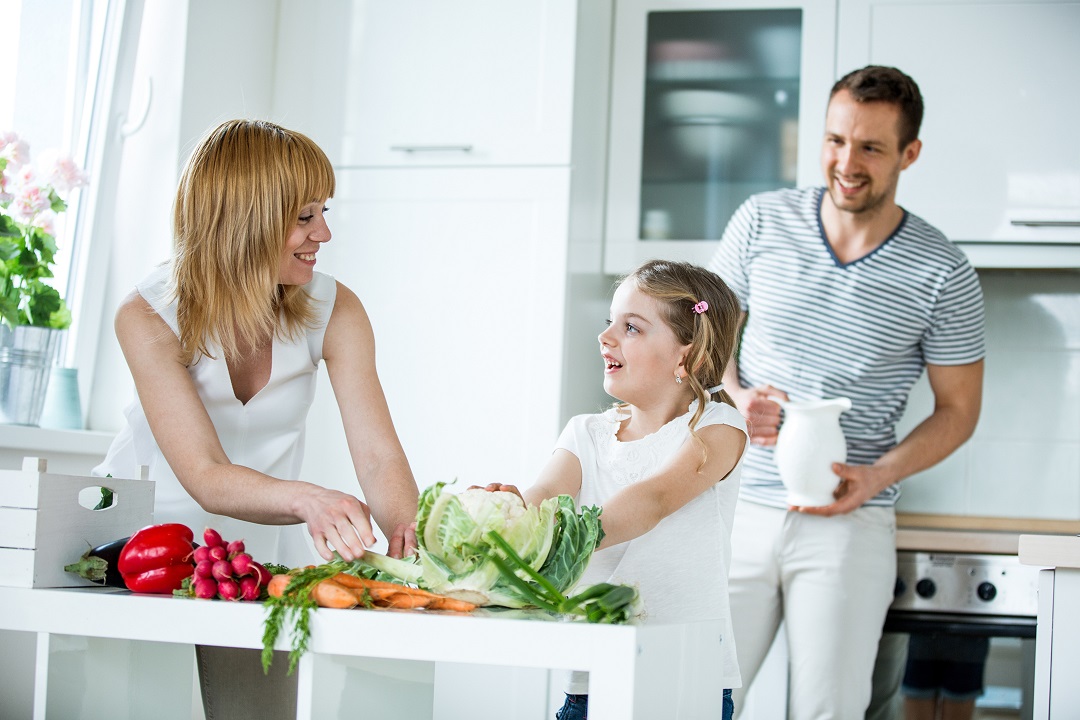 Seven Simple Tips to Help You and Your Kids Eat-to-Learn
Make Real Food Irresistible: As untrue as it is, there is still a societal belief that, in order for food to taste delicious, it must be unhealthy (e.g. filled with sugar, gluten, butter, etc.). The best way to teach kids that this belief is a myth is by allowing them the opportunity to discover how delicious real food can be. So, when you give your kids mouth-watering meals that don't have any of those offending ingredients in them, you can only imagine their surprise and delight to relish in delectable delights, especially if the recipes are easy enough for them to make themselves.

Cook With Your Kids and Their Friends: Kids are more likely to want to eat food that they prepare themselves than food that is made for them. They are more invested in the process and also curious about what they have been able to create. Empowering and confidence-building, the benefits of teaching kids about the magic of creating meals from real whole foods is also good for their mind, spirit, and body. It's a bonus if they can share this experience with a friend and can make for a fun after-school play-date activity.

Get Fun Cooking Tools Your Kids Will Love: Nothing will get your kids more excited about eating cucumbers, zucchini, or apples than letting them spiralize them into superlong noodles. It's literally magical what such devices—or even cute little cookie cutters to make sweet pepper and carrot stars, hearts, and crescent moons—can do to your kid's interest in fruits and veggies. We eat first with our eyes, and so helping your children make and then pack up colourful rainbow lunches will not only bring smiles to their faces when they prepare them, but will also engage them and their friends when they open their lunch bag filled with their beautiful creations at school.

Once a Month (or More!) Let Your Child Choose a New Recipe from a Healthy Cookbook that You Can Help Them Learn to Make. Find recipe books that use whole-food ingredients and let your child peruse the pages and suggest new recipes to try. Learning how to cook real food is fast becoming a lost art, leaving many kids disabled in the kitchen. Help them build their confidence by walking through the process of learning something new first with you by their side. Before you know it, they'll be taking over the kitchen on their own, creating masterpieces that even you would think you'd have to go to a restaurant for. Teaching your kids the pleasure of slow cooking and mindful eating is a treasure they will take with them the rest of their lives.

Make Ahead and Refrigerate Grab-And-Go Lunch Items: Recreate convenience foods by prepackaging in small reusable containers lunch-sized portions of vegetables, fruit, dips, crackers, etc. that can be easily packed in lunches. Kids love this! If possible, create a variety of options that your children can choose from as they pack their own lunches, empowering them to select what their preferences are for that day.

Teach Your Kids How to Create Their Favourite Comfort Foods and Desserts, but Without the 'Junk': Just like us, our kids and their friends have associations with certain foods. When they are craving ice cream or pizza or mac-and-cheese, it's really hard (if not impossible) to talk them out of it. Fortunately, there are now better and über-tasty innovations to create many of those very same old favourites that are indistinguishable from the versions that use unhealthy and even toxic ingredients. As many of you know, I personally dove into the world of such innovative recipe development in order to contribute to the solution to help as many people as I could with this challenge.

Be Brave and Take It Slow: Learning to try new things that are out of the familiar comfort zone isn't just hard for your kids, but can also be difficult for you too. Focus on trying one new thing at a time and stick with it. You can totally do this, even if at first it feels unnatural because it is unfamiliar.

Junk Food Bans
Just like any other habit change, it does require a commitment to a temporary period of time living out of your comfort zone. While a growing number of jurisdictions around the world have begun implementing junk-food bans at schools and sporting events that would make the choice for healthier options for our kids easier, it's mostly still a free-for-all in the majority of Canadian schools. Because there is a lack of policies that require healthier food for kids in schools, you may feel at times like you're trying to lead your children on awkwardly wholesome bicycles going against the traffic of cheeseburger- and pizza-filled trucks of social pressure, overflowing with sugary sweets, chicken nuggets, and ill-fated (albeit delicious) chips and fries.


You've Got This!
However tough it can be, those junk-food trucks are no match for your fierce love for your kids and their wellbeing. Your commitment and vision for your kids empowers you in ways you never would imagine, and they also equip you to guide your kids as a warrior as you teach them how to navigate the challenges that life presents.
Perhaps the biggest gift for your children will be the opportunity for them to witness the incredible being that you are through your example. Even if not in the moment, in the long run your kids will emulate you. Your willingness to defy the social conventions of parenting, because of your commitment to love them and live with as much integrity as you can, will be your legacy and will one day run through the marrow of your beloved children's bones the rest of their lives.
Theresa Nicassio, PhD, Psychologist
Theresa is a kindness advocate, chef, wellness educator,
and the award-winning author of YUM: Plant-Based
Recipes for a Gluten-Free Diet.