Taco Tips for Summer
Tacos have to be one of my favourite meals and my family's too. The best part about tacos is they are completely customizable, everyone around your table can find a topping or something they like from a taco meal. They also make for a delicious, healthy, and fresh meal over the summer months.
I am sharing five tips to make your tacos even healthier this summer.
Make Veggie Tacos
Try swapping meat for things like roasted cauliflower, lentils, tofu, or roasted chickpeas. You can season them the same way you would normally season your taco meat. Use your toppings of choice and voilà!
You can even try using a white fish (cooking that taco seasoning) and topping with a delicious and fresh salsa—see more on that below!
Try Swapping Your Shells
Perhaps you feel like a lighter meal? Sometimes I get that feeling on really hot days. Use big romaine leaves or lettuce leaves of choice as your wrap, add in your meat, beans or veggies, and toppings of choice.
Mix Lentils with Your Meat
If you love your meat tacos, a great way to add some nutrients and fibre to your meal is by mixing in cooked or canned lentils. Cook your meat as you usually do and, towards the end of cooking (last 2 minutes), add in your cooked lentils (1–2 cups). Mix together and serve. The great thing about lentils (besides being super nutritious) is they are tiny and tend to blend well with ground meat.
Add Veggies to Your Meat
Again, if you love your meat tacos, another way to add some nutrition to your tacos is to add in shredded zucchini and carrots. Both will mix and blend well, but give you some bonus veggies. This was something a client shared with me, as it worked well for her family, and I have since been using this approach to my taco meals too (it is always a big hit).
Serve with some Fresh Sauces
Try making your own fresh sauces, like a salsa made with garden or local tomatoes. If you feel like fruit, add some fresh strawberries, mango, or pineapple to your salsa, and enjoy them along with your favourite taco toppings.
I hope these options have given you some ideas to make your summer tacos fun, tasty, and healthy. See the next page for a mango salsa that goes great with some white fish or that can be enjoyed as a veggie taco!
Mango Salsa for Tacos
Ingredients
1 mango, diced into small pieces
1 fresh jalapeño (more if you like spice), diced into small pieces
½ small red onion, diced
1–2 tbsp. cilantro, minced
2–3 tbsp. lime juice
2 tbsp. olive oil
Sprinkle of sea salt
1 tbsp. honey (optional)
Instructions
Mix everything together and use on top of your tacos. Also pairs well with chicken, fish, or tofu that has been grilled.
Enjoy!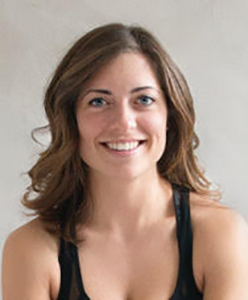 Angela Wallace, MSc, RD
A registered dietitian with the College of Dietitians of Ontario, personal trainer, and family-food expert who specializes in women and child nutrition and fitness, she loves helping families get healthy together.
eatrightfeelright.ca