Paleo Quiche
Gluten-Free and Paleo
This quiche is complementary for those who are looking to decrease grain-based carbohydrates from their diet. This meal is made by mashing cooked butternut squash, creating a healthy, starchy base rather than one made of refined grains. Full of both flavour and nutrient-dense ingredients, this dish can be described as simply blissful.
Ingredients
4 organic free-range eggs

1 medium butternut squash, peeled and chopped

1 small or medium white onion, diced

1 stalk chives, diced

3 cups water (to boil)

½ cup coconut milk

1 tsp. nutritional yeast

¼ tsp. New Roots Herbal's Fermented Turmeric

¼ tsp. paprika

¼ tsp. red pepper flakes

3–4 pieces organic or local well-sourced bacon

A pinch of pepper and sea salt
Instructions
Preheat the oven to 375 °F (190 °C). Place a medium pot with water on the stove and bring to a boil. Put the peeled and chopped butternut squash into the boiling water. If choosing to add bacon, begin cooking in another pan.
Beat the eggs in a large bowl. Dice up white onion and chives, and place in the bowl. Add the coconut milk, nutritional yeast, Fermented Turmeric, red pepper flakes, sea salt, pepper, and paprika.
Once butternut squash is soft with a fork, drain out the water and begin to mash with a potato masher.
Place the butternut squash on the bottom of a small casserole dish. Pour in the egg mix and place in the oven. Cook for 15–20 minutes or until the middle is no longer liquid or runny when removed from the oven.
Serves 4–5.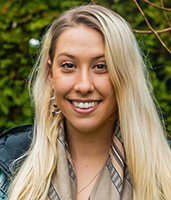 Megan Luder, CNP
A certified nutritional practitioner who is passionate about creating and educating on the health benefits of nutrient-dense whole food!