Turmeric Latte Scones
If you know me, you know I am always up for warm and delicious scones. This time, I made them with an anti-inflammatory boost by using turmeric (curcumin) and ginger. So why not load up on it? Here's an easy and delicious way to do so!
Ingredients
1 chia egg (1 tbsp. ground chia with 3 tbsp. water)
2 cups unbleached all-purpose flour
¾ cup + 3 tbsp. unsweetened oat milk (I use Earth's Own)
⅓ cup coconut sugar, plus more for garnishing
¼ cup quick oats
6 tbsp. vegan butter or coconut oil at room temperature, not liquid
1 tbsp. baking powder
1½ tsp. ground turmeric
1 tsp. ground cinnamon
1 tsp. natural vanilla extract
½ tsp. New Roots Herbal's Fermented Ginger
½ tsp. salt
A few pinches of black pepper
Instructions
Preheat oven at 400 ℉ (200 ℃).
Prepare chia egg in a bowl (by combining 1 tbsp. of chia along with 3 tbsp. of room-temperature water). Once well-combined, add oat milk to it. Set aside.
In a separate bowl, combine all dry ingredients. Add vegan butter (or coconut oil) to dry ingredients and combine well with a fork until only a few small bits remain.
Stir the chia mixture once again, and add it to the dry ingredients gradually, while stirring with a spoon.
On a floured countertop, turn out and knead briefly to obtain a smooth ball of dough about one inch tall. Top with the a bit of coconut sugar, evenly.
With a knife, cut the dough into six parts and transfer them all to a baking tray lined with parchment paper. Bake for approximately 25–30 minutes, until golden and well-cooked inside.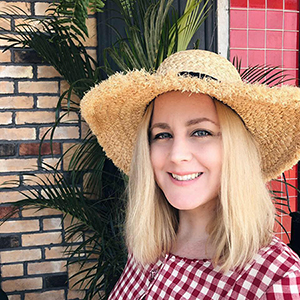 Kate D. Bunting
British-Canadian healthy-living and food blogger at "Kate & Zest," vegan, world traveller... and pretty fancy.
kateandzest.com