New Study on Probiotics: Does Yours Survive to Meet Its Label Claim?
N.H.P. Laboratories performed a study: Short-Term Viability of Probiotics in Some Commercial Products, to investigate the impact of refrigeration on the viability of three commercial probiotics in capsule form, to better understand the efficacy of storage recommendations. Three products were selected from a reputable retail store, each with 18 months remaining before expiry. Two shelf-stable brands P15 and P30 were purchased, along with a third brand, P20, for which refrigeration was recommended.
To test product viability, the number of colony forming units (CFU) were measured on the date of purchase (DP), 18 months prior to the expiration date. The results revealed that all products evaluated contained viable probiotic bacteria; however, the levels varied considerably. P20 contained more than the claimed culture concentration; 130% of its label claim. The two "shelf-stable" probiotics fell short of their label claim; P15 contained only 77% viable CFU, and P30 contained only 73% viable CFU. Products were subsequently tested at 1, 2, 3, and 6 months following the date of purchase. The results are shown in the table below: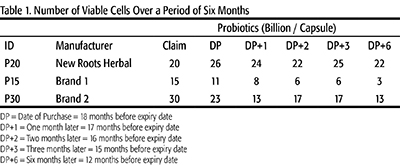 Given that each product is sold with different CFU potency, they are represented below as a percentage of the amount of CFU advertised to consumers on the package. The dotted line across the center represents 100% of the label claim for each.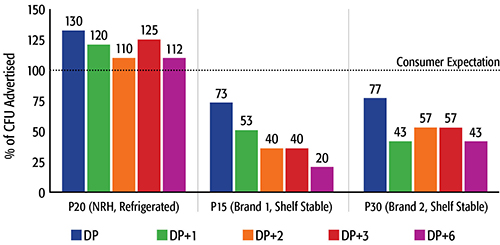 At DP+6—i.e. 6 months after the purchase date, or one year prior to the expiration date—the percentage of viable CFU probiotics for the refrigerated P20 was 112%—more than promised on the product label. The two "shelf-stable" probiotics fell well below what was promised on the label: P15 contained only 3 billion, or 20%, of the 15 billion promised on the label: P30 contained 13 billion, or 43% of the 30 promised.
Researchers noted that the vast selection of probiotics currently available on the market, combined with conflicting storage recommendations, can be confusing for end users.
So, What Does All This Mean to You?
Probiotics are defined as live organisms. The study showed that probiotics degrade over time, but do so much faster when probiotics are stored at room temperature, thereby supporting the need to refrigerate probiotic products. When refrigerated, at retail and at home, probiotics survive for significantly longer periods of time.
But the greatest revelation is that not all probiotic products available on store shelves actually meet their label claim, even 18 months prior to their expiry date.
Refrigerated probiotics are clearly the best choice for consumers looking for viable, effective probiotic products.
To read the full study, visit newrootsherbal.com/NHP_Lab_Probiotic_Refrigeration_Study.pdf
Serge Philibert Kuate, PhD
Serge directs quality management and ISO accreditation for N.H.P. Laboratories Inc. A native of Cameroon, his body of work at international research institutions includes insect ecology, microbiology, mycology, and enzymology.