Pesto Yam Stack
If you are someone that can put pesto on just about everything, then here is another one for you. Full of fibre, healthy fats, and delicious flavour, this yam stack is a creative way to avoid refined carbohydrates and include more nutrient-dense foods in your diet.
Ingredients
1 chicken breast
1 medium-sized yam or sweet potato
1 small red onion
1 avocado
2–4 tbsp. pesto
1 tsp. avocado oil
1 tsp. Cajun spice
1 tsp. Italian spice
¼ tsp. garlic powder
Salt and pepper to taste
Instructions
Preheat oven 375 °F (190 °C). Begin peeling the yam or sweet potato and cut it into long thick slices, then place them in a bowl and add Cajun spices, pepper, and salt. Place them in a greased or parchment-lined oven-safe dish and put in the oven for 35–40 minutes.
In a separate bowl, marinate the chicken breast with Italian spices, garlic powder, pepper, and salt. Place it in the same dish as the yams when they have 20–25 minutes left to cook.
Slice up onions and place in a small pan over medium heat with avocado oil and begin to sauté until translucent or fully cooked.
Once the yams and chicken breast are done, begin the stack in this order: yam, avocado, chicken, pesto, onions, yam. Slicing the avocado and chicken into thin pieces to fit on top of each other makes for a much easier stack, and loading up on the pesto helps stick everything better together.
Serves 2.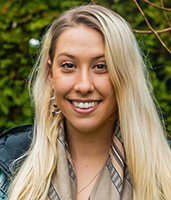 Megan Luder, CNP
A certified nutritional practitioner who is passionate about creating and educating on the health benefits of nutrient-dense whole food.
libertynourished.com